MASS Announces New Board of Directors
Veteran educators to help advance public education in Mississippi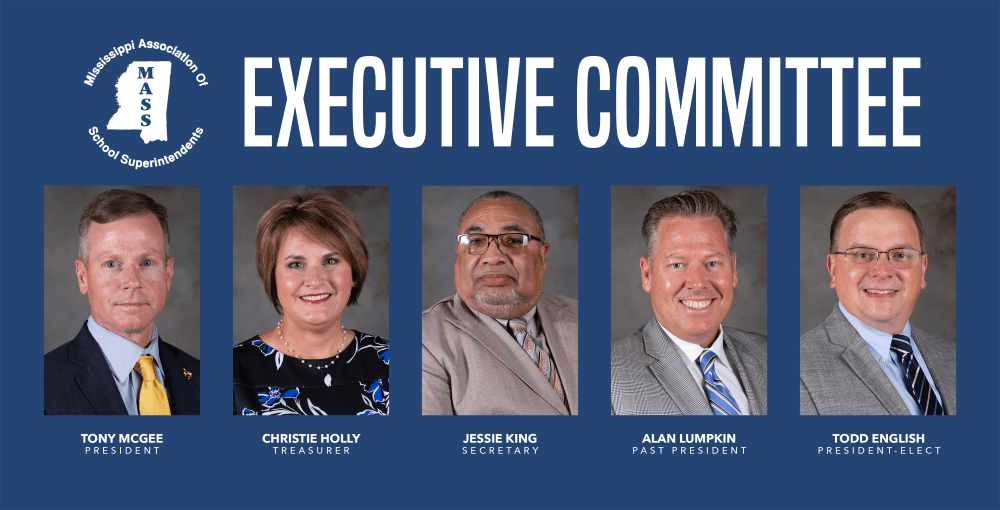 JACKSON ― A group of veteran educators from around the state will serve the Mississippi Association of School Superintendents as its board of directors for 2022-23.
Since its founding in 1969, MASS has grown into a nationally recognized coalition that provides state-of-the-art training and mentoring programs for educators throughout Mississippi while advocating year-round for improved public schools. The association regularly evaluates the composition of its board to ensure it includes the appropriate skills, experience and perspectives necessary to improve outreach and efficacy.
"All of our new and returning board members are proven leaders whose knowledge and experience are essential in helping MASS become a more effective organization," said Dr. Phil Burchfield, executive director for MASS. "We rely on them to understand the unique needs and challenges of our public schools and to help MASS drive improved outcomes for our members, school districts and communities."
Leading the board as president is Tony McGee, superintendent of the Starkville Oktibbeha Consolidated School District. He is joined at the executive level by president-elect Todd English, superintendent, Booneville School District; secretary Jessie King, superintendent, Leland School District; treasurer Christie Holly, superintendent, Tishomingo County Special Municipal Separate School District; and past president Alan Lumpkin, superintendent, Scott County School District.
District representatives are superintendents Irene Walton Turnage, Holly Springs School District; Corey Uselton, DeSoto County School District; Miskia Davis, Sunflower County Consolidated School District; Charlotte Seals, Madison County School District; Josh Perkins, Enterprise School District; Hilute Hudson, Kemper County School District; Jason Harris, Columbia School District; Chris Kent, Franklin County School District; Matt Dillon, Petal School District; and Carla J. Evers, Pass Christian School District.
At-large members include superintendents Roderick Henderson, Brookhaven School District; Babette Duty, Covington County School District; Tyler Hansford, Union Public School District; Steven Hampton, Lamar County School District; and Titus Hines, Lawrence County School District.
Board members will work with fellow directors to build a world-class education system for Mississippi and provide professional development opportunities for superintendents, teachers and administrators. The board also will advocate for increased support for public schools via engagement with members of the State Legislature, the Mississippi Department of Education and other groups.
As part of its outreach and advocacy, MASS develops media campaigns to raise awareness about crucial issues in Mississippi. They have included Unleash Possible, which addresses the state's teacher shortage, and the award-winning 30 Seconds Can Save a Lifetime, which focuses on school bus safety.
MASS also works aggressively with state leaders to develop more robust recruiting and hiring practices for Mississippi's public schools as well as better pay, stronger certification standards and other incentives to build and strengthen Mississippi's teacher workforce.
"Everyone in Mississippi has a vested interest in the success of our public schools, and MASS is doing its part to raise expectations and standards," said McGee, board president. "On behalf of the board of directors, we look forward to working together as well as with the entire MASS team to keep the momentum moving forward."
The Mississippi Association of School Superintendents and the Alliance of Educational Leaders of Mississippi is a non-profit association whose membership is made up of 139 public school superintendents and more than 2,000 public school administrators. Its mission is to provide resources, advocacy, leadership, policy information, training, support, renewal, and public relations services that improve the quality of public education.